Last Updated on November 21, 2021 by Guillermina
Today, we're going to be looking at cool things to do with sparklers on your big day. There's a wide selection of fun things to do with sparklers…and they really do add a bit of sparkle to your day. Let's take a look at some of the best sparkler ideas, and why they're becoming increasingly more popular at weddings in more recent years.
What Is A Sparkler?
You'll likely already know what a sparkler is, and they're very common around this time of year. But more recently, they've been showing up at weddings! Sparklers are small handheld fireworks that emit sparks in a safe, controlled way. You hold one end and it sparkles until burnt away. You can get sparklers in a range of colors and do lots of cool tricks with them (if you know what you're doing).
Why Use A Sparkler At Your Wedding?
Using sparklers at your wedding is a trend that is extremely popular nowadays, and it's not difficult to see why. If you're looking for a unique way to add a sparkle (excuse the pun!) to your wedding, this is a great choice. You can use them at any point throughout your day and they make for gorgeous photos that you'll treasure forever. Your wedding is a big occasion, so what better way to celebrate than with sparkle?!
Things To Do With Sparklers
Whether you only choose one person to use sparklers or your entire wedding party, there's an idea for everyone in our ideas – let's take a look.
"I Do" Kiss with Sparklers
When you share that first kiss as a married couple, what better way to celebrate than with sparklers. Whether they are behind you and make for the perfect backdrop for you and your now lifelong partner, or each guest has their own and lights their own sparkler to celebrate your union – it will be truly special and memorable for you, and your guests.
Sparkler Photos After the Ceremony
Sparklers are well known for writing messages in the air and capturing great photos. Once the ceremony is over, and you go to your photographer for photos – why not incorporate sparklers? Whether you choose to do this with your now-husband/wife (writing Mr. and Mrs. in the air is a super cute idea!) or with your bridal party for a bit of goofy fun – this will certainly leave a smile on your face. While also making some gorgeous everlasting photos.
Sparklers on Your Cake
On special occasions (usually birthdays), you may have a sparkler in your cake – so why should your wedding cake be any different? It will be attention-grabbing for all of your guests to let them know it's cake cutting time and makes for a stunning cake. Cake sparklers are 100% safe and usually burn for around a minute; giving you plenty of time for those perfect photo opportunities!
Sparkler Girl
You've heard of flower girls…but have you heard of sparkler girls? Having your flower girl(s) walk down the aisle with a single-lit sparkler will be sure to bring tears to your guest's eyes. While also making for some gorgeous photos of the young ladies in your life. This is a really unique idea if you're looking to steer away from tradition.
Exit/Entrance
The most common use of sparklers is when the bride enters, or when the happy couple make their exit after the ceremony. Having sparklers lit at the entrance or exit will make for a special moment you will treasure forever. And make the guests feel really involved too if they each have their own. You can even add customized sparkler tags (we'll look at those later).
Read more about What To Wear To An Engagement Party At A House: Do's and Don'ts
Where To Buy Sparklers For Your Wedding?
There's so many places you may want to buy your sparklers from – after a quick Google, you'll be inundated with sparkler options. However, I would recommend Grand Wedding Exit. They have a range of different sizes, including 10, 14, and 20 inches. They also have different shapes, including stars and hearts! If you're looking for bundles, rather than individual sets, they supply those too! And confetti and balloons, if you're looking to shop in the same place for all of your décor needs.
If you're giving each guest their own sparkler, you may want to personalize them with a tag. Sites like Etsy and eBay have a range of affordable options with personalized labels that include the couples' names and date of the wedding, and a cute tagline like "let love sparkle". You can find them in a range of styles and colors, to match the color theme/scheme of your wedding.
You can also buy a Wedding Sparklers Box to store the sparklers in and your guests can help themselves. If you're having a chic/rustic wedding, this idea will work perfectly with your theme. This particular wedding sparkler box is £44.70 from Etsy and can be done with a selection of finishes, and be personalized with any wording you may choose.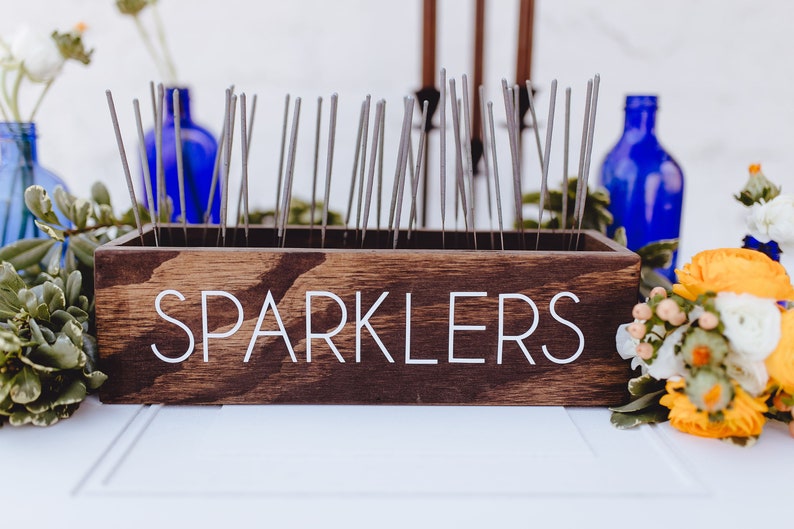 Conclusion
I hope this article has introduced you to just some of the cool things to do with sparklers. Using sparklers at any point throughout your day is fun, memorable, and unique. And really does make for the best wedding photos that will make you feel you're in a movie. And what better day to feel that way than on your wedding! The smile it will leave on not only your face, but your guests' faces too will definitely be worth it. And it's a great activity for the kids to enjoy too!
Did you use sparklers at your wedding? Or do you plan to? Did you use any ideas that didn't make it onto the list? If so, please feel free to let me know in the comments below – I love reading them. You may be helping out future brides and grooms with their own sparkler needs, on their wedding day. Sharing is caring!