Last Updated on February 27, 2022 by Guillermina
Today, we're going to be looking at some ideas for funny elopement announcement wording. Announcing your elopement can feel like a lot of pressure; particularly if your families were set on attending your wedding. The most important thing to remember is that your special day is just for you and your partner, and you can choose to spend your day however you want to.
You may want to keep your elopement announcement light-hearted and funny – so let's take a look at some of our top picks; as well as taking a look at all the points you should cover in your elopement announcement.
Funny Elopement Announcement Wording
If you're looking for the perfect "we eloped announcement", look no further. While you may want something serious and sentimental, that's absolutely fine – but today, we're going to be looking at funny elopement announcement wording. Here are some of our favorite ways to word your elopement, to leave your friends and family with a smile on their faces.
"Guess what? We got married! And you didn't need to spend a lot of money on hotels, air travel, childcare, and fancy clothes. We didn't tell you to take time off or invest in dance lessons, write a heartfelt toast, etc. You're welcome. (Insert couple's names, wedding date, and wedding location here)"
"(Insert couple's names, wedding date, and wedding location here). You were not invited to our wedding! But we'd love for you to join us out our reception in the future to celebrate our new adventure together"
"We Do. We Did. We Eloped". Simple. Effective. And gets the message across.
"We Eloped. #NotPregnant". If you're posting your announcement on social media, this is the perfect way to announce your marriage and make the announcement very light-hearted.
"We've Anteloped". There are a few cute announcements out there with two antelopes and the letters "ant" crossed out. This is a fun idea and is funny in a much sweeter way.
"Love is Patient…but We Aren't"
"Shit Just Got Real"
"Join us for an "I Do", "Me Too" Barbecue to celebrate the wedding of (insert names here)".
"He said. She Said. Boom. Married"
"You can't come to our wedding. Join us for a dinner reception to celebrate the newlyweds"
It's worth noting that you should only send these kinds of announcements to friends and family that you know will not be offended. If you know there's a guest who's particularly upset about missing your wedding, it may not be the best idea to send them a "you were not invited to our wedding!" card – try to be considerate.
If you're looking for more funny elopement announcement cards, Etsy has a great selection, featuring many of the ideas we've taken a look at today.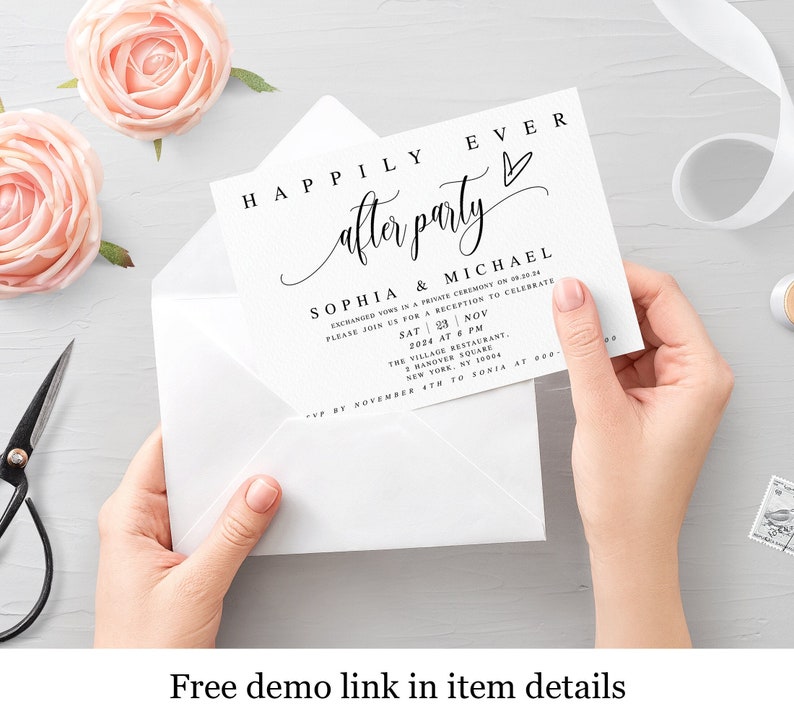 Conclusion
I hope this article has helped you with some funny elopement announcement wording ideas. It can be a tricky minefield to navigate when trying to find the correct wording and the right way to make the announcement. But don't compromise on anything, and be sure to stand your ground. Your wedding is about you and your partner – no one else. It may feel tempting to compromise on what you want, but try to always choose what's best for you and your partner.
Did you elope? If so, how did you go about making the announcement? If you decided to keep the announcement funny and light-hearted, please let me know in the comments any other suggestions you have. You may be helping out future couples with their own elopement announcement wording. Sharing is caring!
FAQs
What Do You Say in an Elopement Announcement?
When you're announcing your elopement, there are a few details that should definitely be included, no matter where you're sharing the announcement. If you're making the announcement by post, be sure to add the following information: the host's names, the couple's names, the wedding date, the wedding location, and it's also a nice idea to add a photo of yourself as newlyweds. If you're not including a photo, it may be a good idea to talk about your dress, or even talk about where you'll be going for your honeymoon - the more personal, the better.
How Do You Announce Elopement on Social Media?
In more recent times (especially with the ongoing pandemic), it's become increasingly popular to just pop up a social media post, rather than sending out individual elopement announcements. Or maybe you've posted a few out to your nearest and dearest, but also want to announce on social media too. There's no real guidelines to follow, but one of the best ways is to post a photo of your wedding day. Or make use of the many cute elopement signs available, with wording such as "We Do. We Did. We eloped."
Should You Announce You Are Eloping?
There are no guidelines as to how and when you should announce that you are eloping. If you don't want to share your news to the world, you don't have to! You've likely made this decision because you want something intimate together, as a couple. Be sure to wait until you're both ready to share the news, rather than when you feel as though you "should" be telling people. 
How Do I Tell My Family I Want to Elope?
In more recent times, eloping has become far more popular, so the majority of guests should be more than understanding. However, there will no doubt be some offended family and friends who want to spend your special day with you. There's a few tips to make the elopement as easy as possible. If you're comfortable telling your nearest and dearest before the elopement, that would help to lower the shock massively. Be sure to explain your feelings and your reasonings behind why you want such an intimate wedding - it is your day, after all. And finally, try to get them involved. There's no reason your mom can't come dress shopping with you, or help you to arrange a reception to celebrate the wedding at some point in the future.