Last Updated on November 21, 2021 by Guillermina
Today, we're going to be looking at mini Adirondack chair cake toppers. What you put on top of your cake probably isn't high on your list of priorities for things to sort out before the big day – but it does need to be sorted! If you're looking for a beach chair cake topper for your wedding – the mini Adirondack chairs are perfect. But where to buy them? Can you make them yourself? You may not even know what an Adirondack chair is! Let's take a look.
What Is An Adirondack Chair?
Typically, an Adirondack chair is an outdoor chair with wide armrests. You'll often see them at the beach. The seat is usually higher at the back and slates downwards as you move further back. It takes it's name from the Adirondack mountains.
Why Have A Cake Topper?
You absolutely do not need to have a cake topper at your wedding, but I think it's a great idea. Whether you choose mini-figures of yourself, or a sign – it really adds personality to the cake. At my wedding, I had a "Happily Ever After" glitter sign at the top of my cake, and I loved it!
If you want to give your cake a personal touch, I would recommend a cake topper. It's a great way to easily identify your cake and it's usually something inedible – so you can keep it in your memory box long after the wedding day is over.
Adirondack Chair Wedding Cake Topper
If you're having a beach wedding, a surfer wedding, or maybe you just love Adirondack chairs – mini Adirondack chairs for your cake topper is the perfect idea. They come in a range of colors and styles, so you can really tailor the design to your wedding. We'll be looking at some of the top choices on online marketplaces such as Etsy and eBay. Plus a tutorial to make your very own if you're looking for something truly original.
Read more about Mini Adirondack Chair Cake Toppers: DIY and Buying Your Own
DIY Adirondack Chair Cake Toppers
If you're creative and love to be crafty, why not try making your own? There's a heap of tutorials online but my favorite is this one from A Bride on the Budget. The best thing about making your own is that you can tailor it to whichever size you're looking for – and choose whichever color you want too! Something to bear in mind is that this may take a few hours – so you'll need plenty of patience.
To make your own, you'll need:
Pattern from Kyle's Woodworking (printed)
Craft Sticks
Wood Glue
X-Acto Knife
Pencil
Paint of your Choice
Paint Brush
It really is ready in just a few simple steps. But it is time consuming. This may be a fun activity to do with your partner. Especially if you each decorate your own chairs. Most of the items you'll need, you likely already have at home so it won't be very costly at all. And the end product will likely look just as good as one you can buy from the store!
Buying Mini Adirondack Chair Wedding Cake Toppers
If (like me), you have very little patience and getting creative with your hands isn't something you're great at – don't worry! There are plenty of places you're able to buy your own. The best places to find them are online stores such as eBay and Etsy, but you may be able to find something similar in your local arts and craft stores. It's worth asking your cake maker if it's something they can provide, especially as they will know the exact measurements of your cake.
Another place that may be worth looking at toy stores. This may seem an odd one but there are plenty of dollhouse chairs that would work perfectly on top of your cake. They may not be mini Adirondack chairs, but you never know what you may find when looking!
Top Picks to Buy
My top picks to buy that are ready-made are all from Etsy, so that's definitely the best place to shop around for mini Adirondack chairs. These are some of my favorites on Etsy.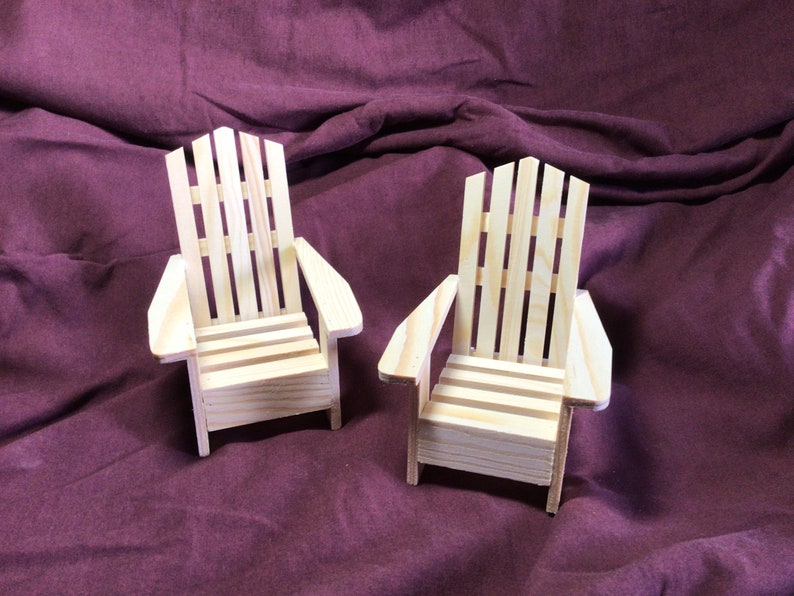 Shop: Adorably Imperfect
Name: Blue or White Mini Adirondack Chair with a Starfish
Price: £7 each
Perks: You can email the shop if you require another color, and they will do their best to accommodate your needs
Shop: 1AdventurousMoose
Name: Mini Foam Adirondack Chairs
Price: £3 each
Perks: This chair comes in a range of colors, including black, brown, green, white, orange, purple and more! Another bonus is that it's made of foam. This means it's easy to manipulate in whichever position you need it to be in
Shop: Kousoulas Kreations
Name: Mini Adirondack chairs various colors
Price: £7 each
Perks: The quality of these chairs means that they'll last longer than others. Plus not only do they come in a huge selection of colors, but they also come in 3 different styles to choose from too!
If you're looking for some more inspiration on Etsy, you can find more mini chairs to choose from here. Most prices are reasonable, so it's a great way to find a cake topper at a good price.
Conclusion
I hope this article has helped you to become more familiar with mini Adirondack chair cake toppers. Whether you're looking to make your own or buy for your cake – it really couldn't be easier! And particularly works well if you're having a beach wedding. Even your cake will be showcasing the beach theme! You can even put mini-figures in the chairs too – why not go all out? It is your wedding day, after all!
Did you use mini Adirondack chairs for your wedding cake topper? If so, please let me know in the comments below if you made them yourself, or bought them outright – I would love to hear from you. You also may be helping out any future brides and grooms with their own wedding cake toppers!
Read more about Large Shadow Box For Wedding Dress: Displaying Your Gown