Last Updated on December 31, 2021 by Guillermina
Today, we're going to be looking at personalized wedding cake cutters, and all of our top choices if you're looking for the perfect pick for your special day. Whether it's just an engraved cake knife or a whole personalized cake cutting set, it really can add something to your wedding. And will look absolutely gorgeous in your wedding photos. Whether you choose to have Mr. and Mrs. or your names and wedding date – the possibilities are endless. So let's take a closer look!
What Is Personalized Wedding Cake Cutting Sets?
It really is what it says in the name! The sets usually come with a knife and a server (to serve your yummy slabs of cake with) and personalized ones usually come engraved with the names of the happy couple, or the wedding date, or something else significant to the pair.
Some venues will already supply wedding cake cutting sets – but they will not be personalized (I definitely learnt that the hard way!). And I think the personalization makes them extra special, and something you'll be able to treasure always after the wedding is over.
Top Picks
Whether you're shopping on marketplace stores like Etsy or independent stores – there's a ton of choices to pick from! Here's a list of some of our favorites.
TCDiy
Our first wedding cake cutting set is from TCDiy. This is a set of a knife and a server – and is perfect if you're on a budget. There's a range of options to choose from, including:
No Engraving – £18.93
With Engraving – £29.54
Engrave Handwriting – £22.57
Engrave Photo – £35.60
What I love about this one is that you can choose to have your own handwritten message or photo engraved. This adds a special layer to your cake cutting set. Or you can choose one of the 10 standard fonts that they offer, for a lower price. They're handmade, with stainless steel blades. And the best part is…shipping is free!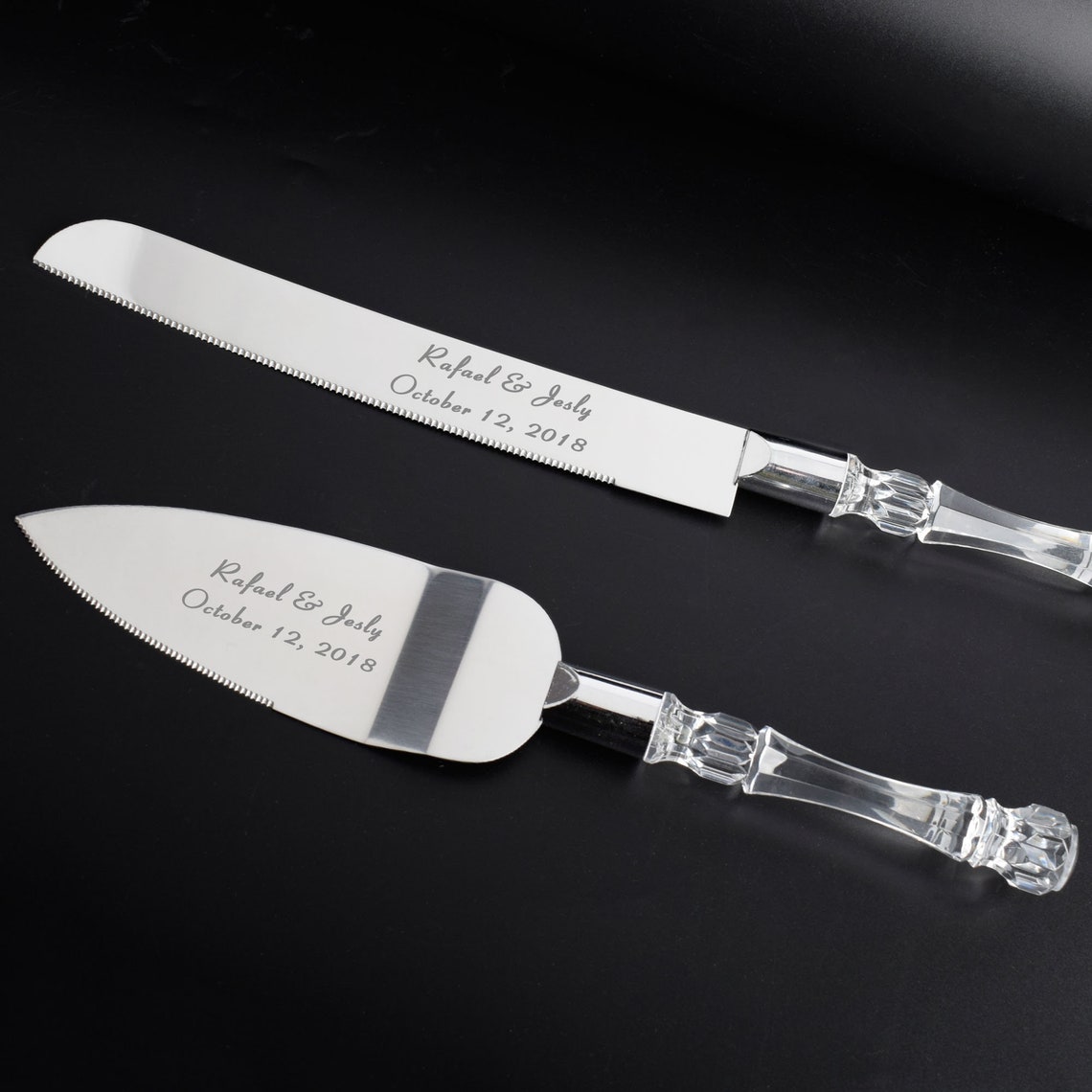 The Laser Boutique
If you're looking for something basic, at a fantastic price, and can be paid off in installments – look no further! This personalized stainless steel cake knife and server set is on sale at the moment, for just £17.99 for the pair! You can't choose the font style, but it is a gorgeous set at a very reasonable price. You can even add a gift box for an extra £6.99. But if you're looking for something fully personalized that does the job, I would highly recommend The Laser Boutique.
Things Remembered
Things Remembered have a huge selection of personalized gifts that will be sure to bring magic to your wedding. They have a range of options, varying from suitable for a tight budget or if you have a little extra cash to spend on luxuries such as wedding cake cutting sets.
My top pick from Things Remembered is these stunning Fifth Avenue Cake Servers. If you're looking for a way to add the perfect touch of glitz and glam to your wedding, look no further. At $92, the price is not for the faint-hearted, but they are adorned with glimmering crystals, which will have everyone's heads turning on your special day. Personalization comes included in the price, and the turnaround time is super fast.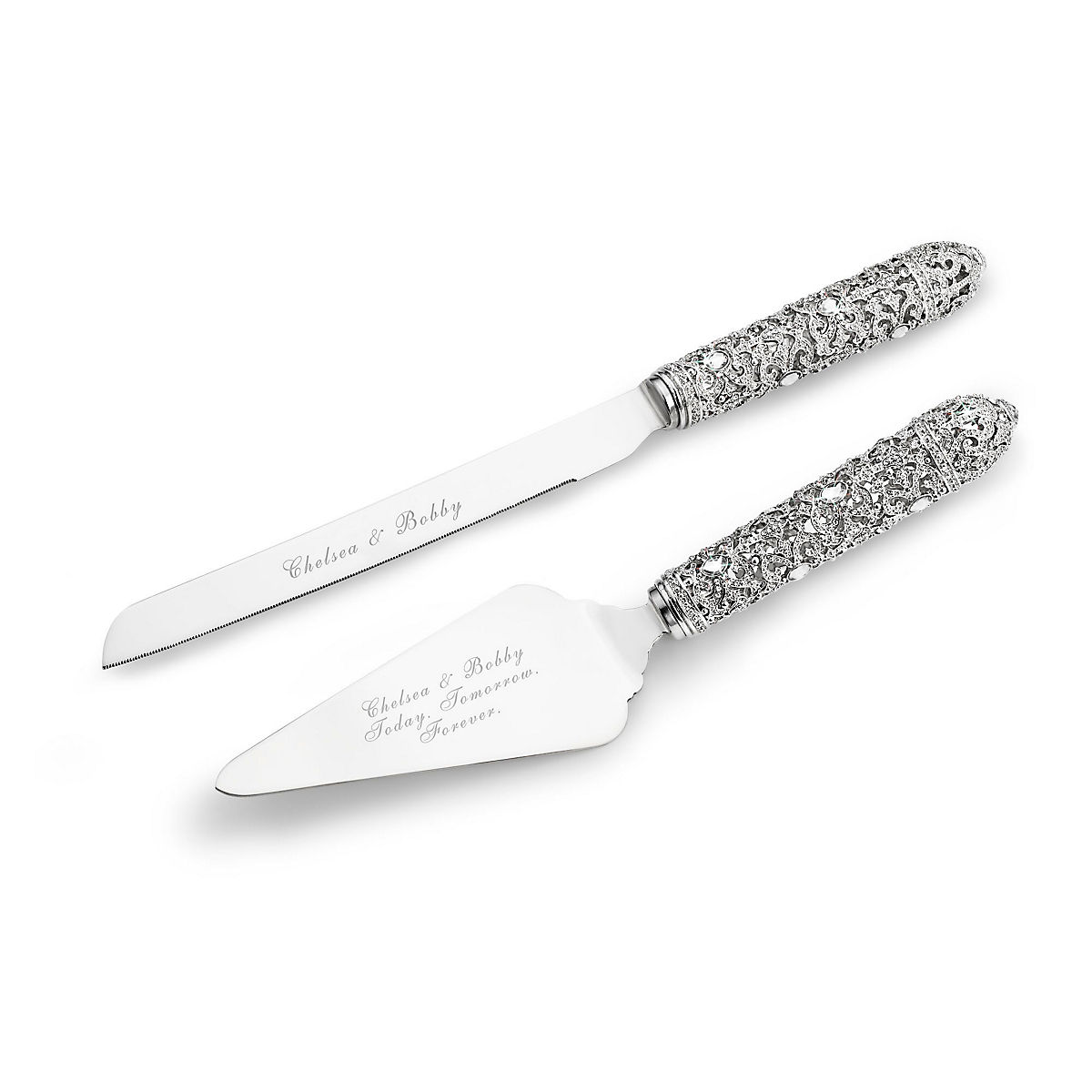 They're made with pewter alloy and stainless steel, and measure in at 13.8″ for the knife and 11.8″ for the server. There are plenty more budget-friendly options on their website, but if you're wanting a bit of extra flair on your wedding, the Fifth Avenue Cake Servers set is perfect!
The Wedding Outlet
Another great place to start your search is The Wedding Outlet. You can find a huge selection of wedding items on their website – including wedding cake cutting sets; many of which come personalized. What I love about The Wedding Outlet is that they cater to a lot of weddings, and a lot of styles. For example, they have a seaside wedding server kit and a vintage server kit – meaning they'll be suitable for most weddings.
Their sets also come in a range of colors and shapes – they even have heart-shaped wedding servers, which I think is amazing! On my own wedding day, I just used what the venue provided…which I'm greatly regretting now!
The prices vary, depending on the style you're looking for. But prices start from $20 to around $70 – with personalization, of course.
Amazon
While Amazon may not be your first choice that comes to mind when you think of wedding products, they're actually better than you may think! Their selection isn't exactly huge and the only personalization you'll find is Mr. and Mrs., but you can find beautiful options for around $10-$15. They also come in gorgeous gift boxes.
It may even be worth buying them blank from Amazon at a cheaper price, and taking them to your local engraver to see how much individual engraving would be – you may end up saving yourself some money! Most engravers charge a seriously low price.
Conclusion
I hope this article has helped you to become more familiar with personalized wedding cake cutters, and where to start your search for your dream set. It may not seem too important, but it's the perfect keepsake from your wedding and something you can even hand down to your children in memory of your special day. You don't have to spend huge amounts of money to find something perfect for your wedding.
Whether you're looking to bring out the bling, or something more subtle, I highly recommend checking out the stores above, as you'll definitely find something for your own wedding.
Did you have a personalized wedding cake cutter set for your wedding cake? I would love to know! If you have any recommendations of stores to buy from, or any stories to share – please feel free to let me know in the comments below. You may be helping out future couples with their own wedding cake sets. Sharing is caring!