Last Updated on November 21, 2021 by Guillermina
Today, we're going to be looking at all things wedding guest books! While it may not be the first thing you think about when you start planning your wedding, it is actually quite an important aspect of your wedding. It's something you'll both be able to treasure forever and look back on to be reminded of how beautiful your wedding was and the people that attended. Whether you opt for a traditional wedding guest book or something more unique, guest books are a lot of fun!
What Is A Wedding Guest Book?
A wedding guest book is a great way to let your guests celebrate with you. They can leave their own well wishes and I find that something handwritten is far more personal, and something you'll likely treasure forever. It's a book you'll look back on for years to come. And the perfect reminder of your special day together.
Do You Need A Wedding Guest Book?
Absolutely not! There is no etiquette that states you need to have a guest book at your wedding. However, most couples do choose to have one, and very rarely regret that decision.
What Does A Wedding Guest Book Look Like?
Traditionally, it's a white, blank book which is full of empty pages for guests to write their messages. However, we've come a long way since then! Some couples may prefer a wedding guest book with photos from their engagement, or something more out there like a blank puzzle – we'll look at more ideas soon! A groom and bridal guest book is the perfect addition to any wedding.
Read more about Cool Things To Do With Sparklers At Weddings
Wedding Guest Book Ideas
Whether you want a physical book, or something a little less traditional – there's a lot of choices out there! Let's take a look at some options you may like to consider.
Puzzle Wedding Guest Book
This is one of my favorite non-traditional ideas. Whether you get your names printed in the middle, or leave the entire puzzle blank – guests can take an individual puzzle piece and customize it. Whether that be with a signature, name or message (depending on the piece size!), it's super cute! And something you and your partner can get hours of enjoyment out of after the wedding. Knotted Sage on Etsy has a great Wooden Puzzle Guest book, which comes in a range of sizes and styles.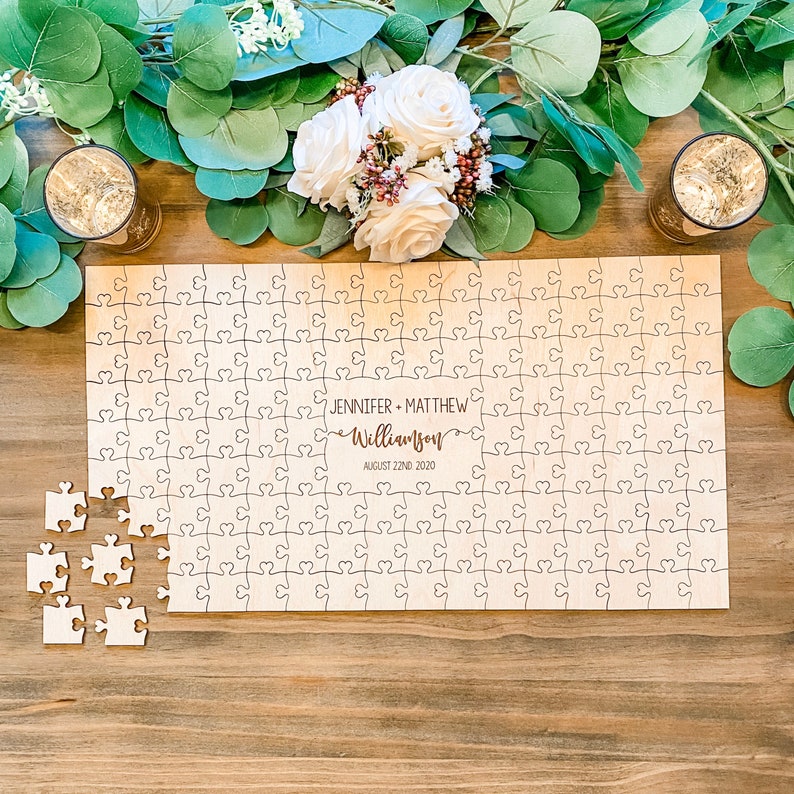 Personalized Jenga Guest Book
This is a really fun idea – and again, something you can make good use of after! Guests will write their own messages on individual blocks and stack them on top once their message is written. A fun (and perhaps emotional!) game for years to come, can be playing Jenga but taking turns to read each message every time you remove a brick. The best part about this guest book is – it's extremely affordable! You can pick up Jenga from almost anywhere and your guest book is ready to be personalized!
Globe Wedding Guest Book
If you and your partner are planning on travelling once your wedding is over (or just love travelling in general!), why not buy a globe and get guests to sign that? Whether they sign over countries they recommend that you visit, or you just want a gorgeous new display piece in your home – what better way than filled with messages from loved ones! And it's something you'll see everyday as a reminder of your wedding.
Guest Book With Guest Photos
Whether you have a photo booth that prints photos that guests can then stick in, or you prefer something simpler like a polaroid camera beside the guest book – this is a really cool idea! Not only will you get heartfelt messages from your loved ones, but it will also be filled with fun photos from your special day, that you can treasure forever. This will definitely be a more expensive option, but if your budget is a bit more open, it's a brilliant idea.
Envelope Wedding Guest Book
This is a much more traditional approach, but it's super cute. And would work perfectly at a rustic/boho wedding. This envelope wedding guest book from Ginger Ray is just $26.99 and contains 80 inserts that go inside 80 mini envelopes in a book! It's like your very own adult lift-the-flap.
Postcards Guest Book
While not exactly a book, buying a bumper pack of postcards and having your guests write their message on the back is a budget-friendly cute idea. Whether you buy random postcards or postcards with photos of the happy couple on the back – it's something you can keep forever.
Online Wedding Guest Book
You may not have space for a physical guest book at your wedding venue, or maybe you just prefer things digitally – online guest books are amazing! For my own wedding, I had a physical and an online guest book. The online guest book was great for guests that hadn't been able to make the wedding, but still wanted to send their best wishes, or simply forgot to sign the book on the wedding night.
For my own wedding, I used gettingmarried.co.uk, which not only can be used for an online guest book, but a range of other options to, such as directions to the venue, best places to stay, and even song suggestions for the reception! You get your own website dedicated to your wedding – and the best part about it? It's free!
Read more about Top Picks: The Best Wedding Dresses For Curvy Girls
Conclusion
I hope this article has helped to understand all things wedding guest books, and hopefully give you some ideas of your own for your guest book. They really are a perfect addition to any wedding. And I look at my own regularly!
Did you have a wedding guest book at your wedding? Do you have any creative, unique ideas that you think are worthy of mentioning? If so, please feel free to let me know any suggestions in the comments below. I love reading through them and you may be helping out future brides and grooms with their own big day.