Last Updated on November 7, 2021 by Guillermina
Today, we're going to be answering the question: when do you ask your bridesmaids to be part of your special day? It's a question that's asked often in relation to wedding. Let's face it – your bridesmaid(s) and maid of honor are a huge part of your wedding. But when's the best time to ask them? What's the etiquette? And how do you ask someone to be involved in your wedding? We'll be covering it all in this article.
When To Ask Bridesmaids
You've just got engaged to the love of your life and you're excitedly telling all your friends and family. You're in the first stages of wedding planning bliss and you're making decisions already. One of your first decisions will likely be your bridal party.
But try not to be too hasty in sharing your decisions with potential bridesmaids. Your wedding will likely be months, if not years, away. What you decide now, may not be your decision months down the line. You may want 6 bridesmaids on your engagement but may only want 2 several months later. It's definitely best to hold off on sharing your decision with your bridal party, no matter how excited you are!
If your wedding is a few years away, you may want to wait too as relationships can change. Someone you're close to now, may not be so close in a year's time. Or you may meet someone new who you'd like to give the role of bridesmaid too.
Usually, bridesmaids are given at least 6 months' notice of their wedding role – but up to a year is even better! This is because they have a bigger role than you may realize. Not only are they helping you plan your special day, but they'll need to make plans for your bachelorette party, your bridal shower, choose their dresses – being a bridesmaid is important!
These pointers are the best way to decide when you should be asking:
At least 6 months before your wedding (if that's possible)
When your know your wedding date
At least a few weeks after the proposal to give you time to think
When you have made a decision on the rest of your bridal party
Do You Ask Your Maid Of Honor First?
When it comes to asking your nearest and dearest, there really is no etiquette on who you should be asking first. You may want to ask your maid of honor first, as, after all, she does have the most responsibility on the day. Or you may like to leave her "proposal" until last to keep her in suspense and make a grand gesture.
Whichever you decide is completely acceptable and she'll no doubt be over the moon, regardless of when you ask her to be your maid of honor.
How To Ask Someone To Be Your Bridesmaid
So the time has come! You've chosen your bridesmaids and now you're ready to pop the question! What once was a simple question, is now quite an event. If you're able to put a small budget aside for your potential bridesmaids, it will make the memory everlasting for them, and something they'll treasure forever.
Whether you have no budget or a huge budget, there's something you can do to make the proposal special. Let's take a look at some of the most popular ideas.
Flowers. One of the most common proposal ideas is with a bouquet of flowers. The great thing about flowers is that they can be as expensive or as budget-friendly as you need. And you can just pop a "Will You Be My Bridesmaid?" note inside the bouquet.
Scratchcard. This is a super cute, affordable idea. You can find personalized scratch cards on sites like Etsy for as little as $2. This one from Gemma Lou Creations is simple but effective.
Fortune Cookies. Arranging a takeout night with your potential bridal party is an idea that will definitely make the proposal a surprise. On sites like Not On the High Street and Etsy, you can find "Will You Be My Bridesmaid?" fortune cookies for around $5. What a sweet surprise that will be when they crack open their cookies!
Jewelry. Whether you choose a simple wish bracelet for around $2 with "Will You Be My Bridesmaid?" as the backing card, or you buy a piece of jewelry for them to wear at your wedding with a handwritten note inside; jewelry is the perfect way to make a proposal.
Sweet Treats. If your potential bridesmaid has a sweet tooth – presenting her with a printed cookie, or small cake is a cute idea! You could even get several cookies made; one with the question, one with the date, and one with a message on why you'd love her to be your bridesmaid.
Scavenger Hunt. This is a great affordable idea. Leave clues around the house to lead up to the "prize", which can either be a simple handwritten note with your proposal, or something more extravagant like a personalized gift box. The choice is yours!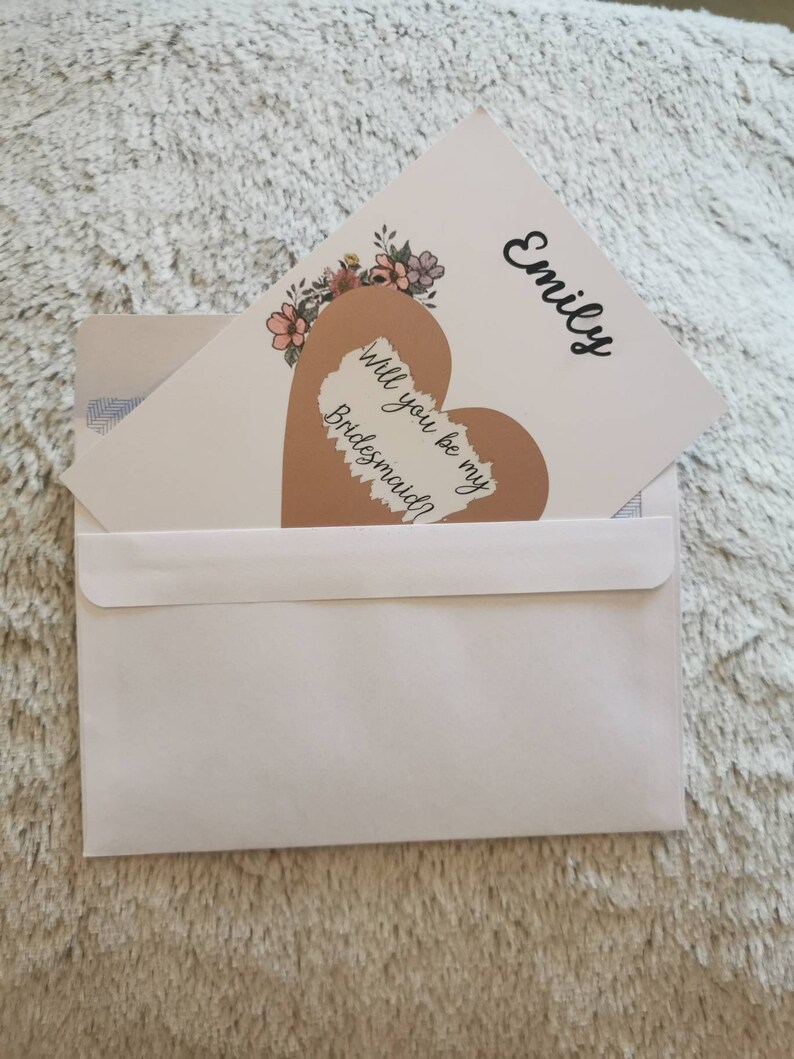 For more proposal ideas, Brides has an amazing 30 Creative Bridesmaid Proposal Ideas post to leave you feeling inspired.
Read more about Painted Wedding Shoes: How To Personalize Your Shoes
Conclusion
I hope this article has helped to answer the question of when you should be asking your bridesmaids and what are the best ways to do it. Let's be honest, however you make your proposal – you're going to have one happy bridesmaid! She'll be thrilled to be part of your special day, whether it's a grand gesture or not.
The most important point to remember is to give yourself time to make final decisions and don't be too hasty in telling your bridal party.
How did you ask your bridesmaids and when do you think is the best time to ask them? Please feel free to leave any answers in the comments below – especially if you have some imaginative ideas! You may be helping future brides out with their own proposals!