Last Updated on February 27, 2022 by Guillermina
Today, we're going to be looking at wine glass party favor ideas and the best wine glass wedding favor sayings to add to your wine glasses to make them the perfect gift for your guests. When you're planning your wedding, it feels like the list of decisions is never-ending. One of the decisions you'll need to make is for your favors (if you're having them).
Personalized wedding wine glasses are something I highly recommend considering having. They're an amazing keepsake from your wedding, that guests can re-use again and again. But where to get them? What do you personalize them with? Do they need a gift inside? Let's take a look.
Wine Glass Wedding Favor Sayings
Personalized gifts always go down a treat at weddings and favors are no different! Whether you're looking for something sentimental, celebratory, or funny – we've rounded up some of our favorite wedding favor sayings for you to use. Let's take a look.
Cheers to love, laughter, and happily ever after
Happily ever after
Sip, sip, hooray
Wine – because it's not good to keep it bottled up
All you need is a wine
You had me at merlot
Drinking because covid-19 postponed my wedding
Let's toast
Pop fizz clink
Thank you
Personalized wedding date and names
Eat, drink, and be married
Mr. and Mrs. / Mrs. and Mrs. / Mr. and Mr.
We decided on forever
Wine Glasses Wedding Favors
If you search online for wine glass wedding favors, there are a plethora of options available to choose from. But we've rounded up some of our favorites to share. If you'd like to share your favorites, please feel free to let us know in the comments below.
Eat Drink and Be Married (Hitched Shop)
This is definitely one of my favorite choices from Hitched Shop. Hitched Shop has a huge selection of wine glass favors, but my favorite is the Personalised Stemless Wine Glass Wedding Favor. Eat, Drink, and Be Married is my personal choice of the logo – but there's an extensive range of decals to choose from. You can order a sample for as little as £0.79. And prices start at just £1.99 per favor – you can even add a window box to each glass too!
What I also love is that you can choose from a variety of colors for the decal and see a mock-up version before you make any final decisions – this is great to get an idea of what it may look like.
Vintage Belle Wedding
Vintage Belle Wedding is a store on Etsy that's home to a great selection of Custom Wedding Favor Small Glasses. This shop is particularly good for making the glasses completely your own. You can not only choose the color and font of the wording but there are a staggering 49 designs to choose from! Prices start at £2.19 per glass, no matter which design you choose. For the amount of customization you're receiving, I think this is a really good price.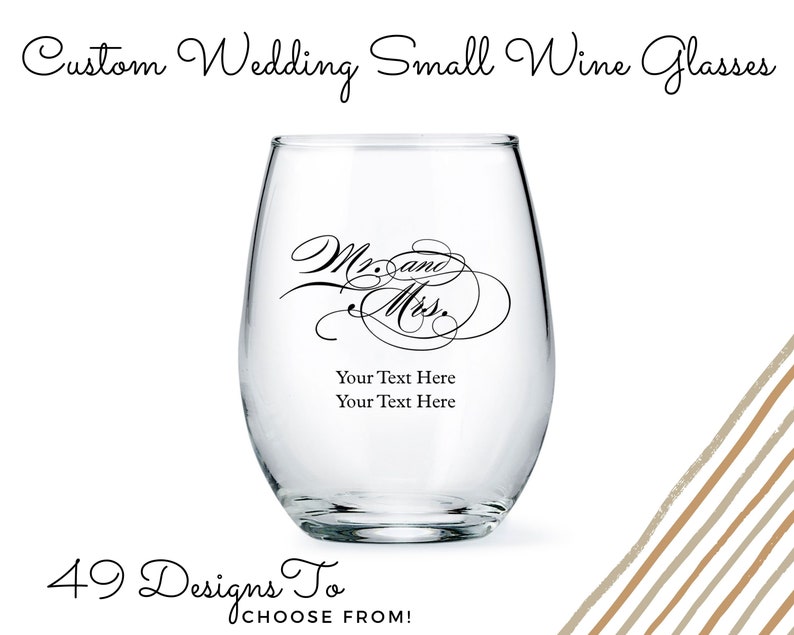 All Gifts Shop
All Gifts Shop has a range of gifts available, including wedding favors. They sell their Personalized Stemless Wine Glasses in sets of 24 pieces. For 24 glasses, it's just over £80 and again, they're fully customizable. Each glass holds 9oz and is completely dishwasher safe. Unlike Vintage Belle Wedding, All Gifts Shop is based in the US, so this is a great option if you live in the United States.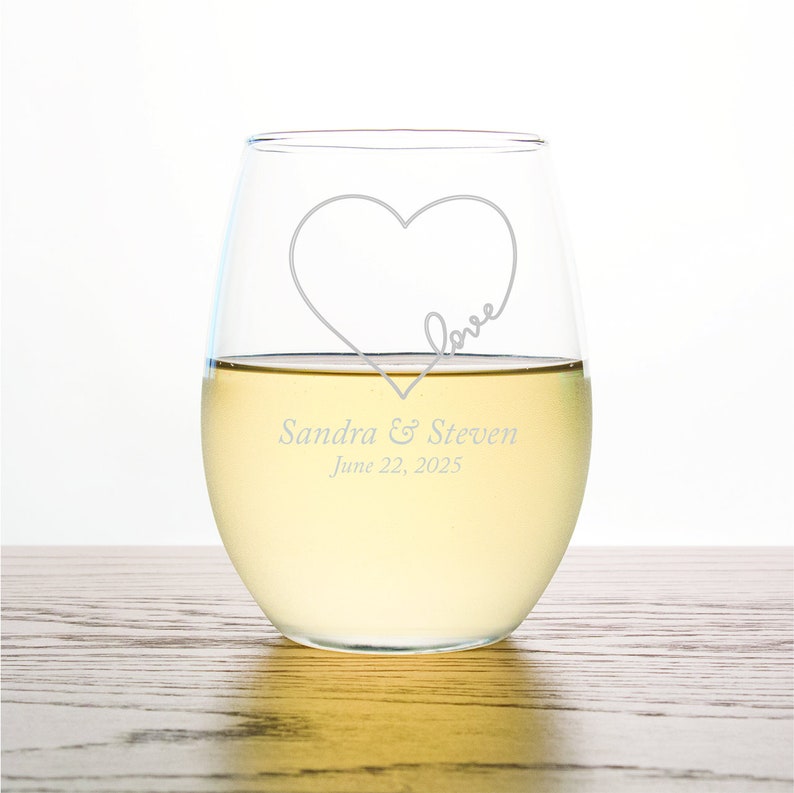 Facebook Marketplace
A place that is definitely worth checking out is Facebook Marketplace. There are always some amazing deals if you take a look around, and places like Facebook are much more likely to do deals on larger quantities. Not only that, but it's also helping out local small businesses – so you may be able to save on postage costs too (which can be expensive for something like wine glasses). Plus, there's no worry about any breakages on the way, if you pick it up yourself!
Wedding Favor Etiquette
Favors are not essential and you definitely don't need to adhere to this tradition, but it's a lovely way to thank your guests for coming. And also a lovely memento for your guests to keep from the wedding. There's no real etiquette to follow when it comes to wedding favors, but the most important aspect to remember is that each gift is presented at each place setting. And if your favors are per couple/per family, be sure this is very clear and labeled so.
Conclusion
I hope this article has given you some wine glass party favor ideas. Whichever favors you opt for, guests will be thankful for any gift they receive, but making it something memorable will be something they can treasure forever. And always be reminded of your wedding day. Personalizing favors makes the gifts even more loved – and what better way to thank your guests than a wine glass they can use again and again?
What favors did you have at your wedding? For mine, I had personalized M&M's in Bride and Groom candy cases. They were super cute and went down a treat with all the guests (especially the children). Feel free to let me know in the comments below any ideas, I would love to know. And you may be helping out future couples with their own favors. Sharing is caring!
FAQs
What Do You Put in a Wine Glass as a Gift?
If you're choosing to use wine glasses are your wedding favors, you may want to feel them with a gift to surprise your guests. This can be anything from a miniature bottle of alcohol, to a mini bag of chocolate truffles. Or maybe you'd prefer to fill the bag with candy, so your guests can unleash their inner child. Another idea is personalized wine glass charms. These go round the bottom of the glass, but can be tailored to each guest, and can be re-used many times after the wedding, alongside their glass. Be sure the gifts are personal to you and your partner as a couple.