Last Updated on November 21, 2021 by Guillermina
Today, we're going to be looking at a large shadow box for wedding dress and other ways you may want to display your wedding gown. Many brides want to preserve their wedding dress and ensure it stays as perfect as can possibly be. And why not!? You probably paid hundreds, if not thousands, for your dream dress, so you likely want to display it in all it's glory. But how? Let's take a look.
What Is A Shadow Box?
Shadowboxing your dress is thought to be the best way of preserving your dress in the best possible way. Once the wedding is over, your dress is usually cleaned and pressed to ensure it goes into the shadow box looking as pristine as possible. This method ensures that no yellowing can occur to your dress and that things like dust and air moisture can not cause any damage.
Shadow Boxes For Wedding Dress
You can go to a shop and someone can do this for you, or you can buy a kit and do it yourself at home. While this is the cheaper option, it isn't advised that you do it yourself unless you know what you're doing. There are stores such as David's Bridal that can take care of the cleaning and preservation for you. Their Cleaning and Preservation Kit is $149.95 and takes just two to six weeks.
They offer a variety of services such as cleaning, cleaning, and preservation, and their premium service which is an additional $50.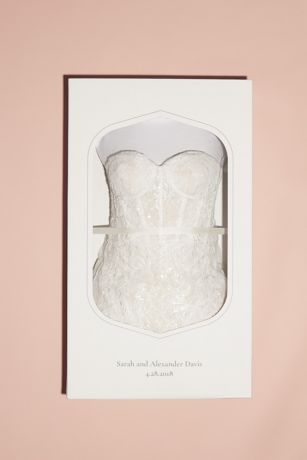 Top Tips
If you're doing the cleaning and preservation yourself, you may want to follow these top tips.
Do Your Research. It's important to know what you're doing before you even touch your dress. There are plenty of tutorials and posts online to help you along the way.
Always use gloves when handling your dress in any way,
Don't store your gown in an area where the temperature can be too extreme (hot or cold), such as a cellar, attic or garage, etc.
Wrap your dress in acid-free tissue paper or store in an acid-free plastic garment bag that is safe from harsh light and temperatures. Under a bed, or in a closet is ideal. (If you're hanging a dress, be sure to use a padded hanger).
Once your dress is cleaned and preserved as best as possible, you can either buy a shadow box frame (these can be extremely costly, so be sure to set aside enough of your budget). If you choose to buy the shadow box yourself, you can purchase from stores such as Unbox the Dress starting at around $200 for the bodice display piece alone!
For a simpler storage box, stores like Etsy are perfect, and you can buy personalized boxes for around $30.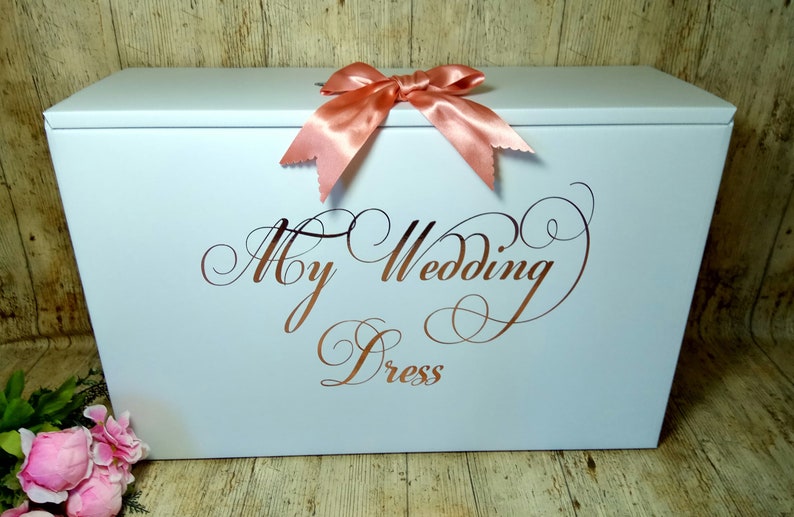 Wedding Dress Frame
You can buy a range of frames and shadow boxes from stores like Hobby Lobby (US) and Hobbycraft in the UK. Arts and crafts stores are the best place to start looking. It's important to note that you'll need a large box if displaying the whole dress. This is why most brides opt for displaying a certain part of that dress. That way, it keeps the price down and takes up less space. Let's be honest, you'll need an extremely big space to display your gown!
Read more about Cowboy Wedding Attire For Guests: What To Wear
Wedding Dress Display Cabinet
If space is no worry in your home, you could even opt for a display cabinet! This way you can show off the dress in it's entirety. Not only will it look stunning showcasing your beautiful gown, but it will be a daily reminder of your special day.
Cabinets are quite difficult to find and they can be extremely expensive. AliBaba has them available, but they cost $325…and you need to buy a minimum of 5! It may be easier to make your own if either you or your partner are good at DIY. Or find a bespoke service for a wedding dress display cabinet. However, these prices can be anything upwards from $1000.
If like me, your gown wasn't too expensive, the preservation of your gown may cost more than the gown itself did! But if preserving your gown is important to you, it's definitely something I would recommend. Especially if you plan on offering your gown to generations down the line – which is still a surprisingly popular tradition!
Conclusion
To conclude, I hope this article has helped you to become more familiar with large shadow boxes for wedding dresses and other ways you may want to display your gown. However you want to preserve and display it, your gown is likely a clothing item that you'll treasure forever – so it's definitely worth the time and care put into it. Whether it's kept in a box, or on display.
One of the best places to ask…is your dry cleaner! This was surprising to me too. But one of their most common jobs is cleaning and pressing wedding dresses. So if they do not offer the service themselves, they will likely be able to recommend someone that can help you. So your local dry cleaner is a great place to start if you're unsure where to find a framing service.
Shadowboxing isn't for everyone, but it's the perfect way to cherish your gown forever. And remember to set aside a chunk of your wedding budget. Whether you're doing it from the comfort of your home or having it done professionally – it isn't cheap!
Have you used a large shadow box for your wedding dress? Or do you plan to display your dress when your wedding is over? If so, please let me know if this was something you did yourself or if this was done for you. If you could recommend any framing stores or preservation services – that would be great! Please feel free to leave any suggestions in the comments below. You'll likely be helping out future brides with their own display dresses.