Last Updated on February 27, 2022 by Guillermina
Today, we're going to be looking at our top picks for linen silk anniversary gift ideas and what this particular anniversary represents. With every year of marriage, the traditional gift changes and represents something new. The gifts can actually differ depending on where you are in the world, but don't worry – we'll be covering the UK and the US today so both bases are covered! Let's take a closer look at the linen and silk anniversary.
Symbols For 4th Wedding Anniversary
Symbols and gifts for the 4th wedding anniversary differ depending on where you are in the world. If you're from the UK, the traditional gift for this anniversary is either silk or linen. But if you're from the US, the traditional gift for 4 years of marriage is either fruits or flowers.
If you're looking for a modern gift for this anniversary, it's quite a random one! It's electrical appliances – very romantic, right? Green and blue are the traditional colors for 4 years of marriage. The gemstone is blue topaz, along with amethyst and blue zircon.
If you're looking to buy flowers, the flowers are geraniums and hydrangeas. These flowers represent comfort and appreciation, which are both linked to the four-year wedding anniversary.
4th Anniversary Gift Ideas Silk Or Linen
If you're looking for ideas for either a silk or linen gift, look no further. Here's a round-up of some of the best gifts to buy for the four-year wedding anniversary.
Personalized 4th Anniversary Linen Gift Heart
This Linen Gift Heart from A Few Home Truths is available at notonthehighstreet. It's £39.95, which for a personalized hand sculpted product, seems a very good price. You can personalize the names, the dates, and the message. The heart itself is made from linen and flax, which are said to be the oldest fibers in the world. It's a square shape and has received 5-star reviews.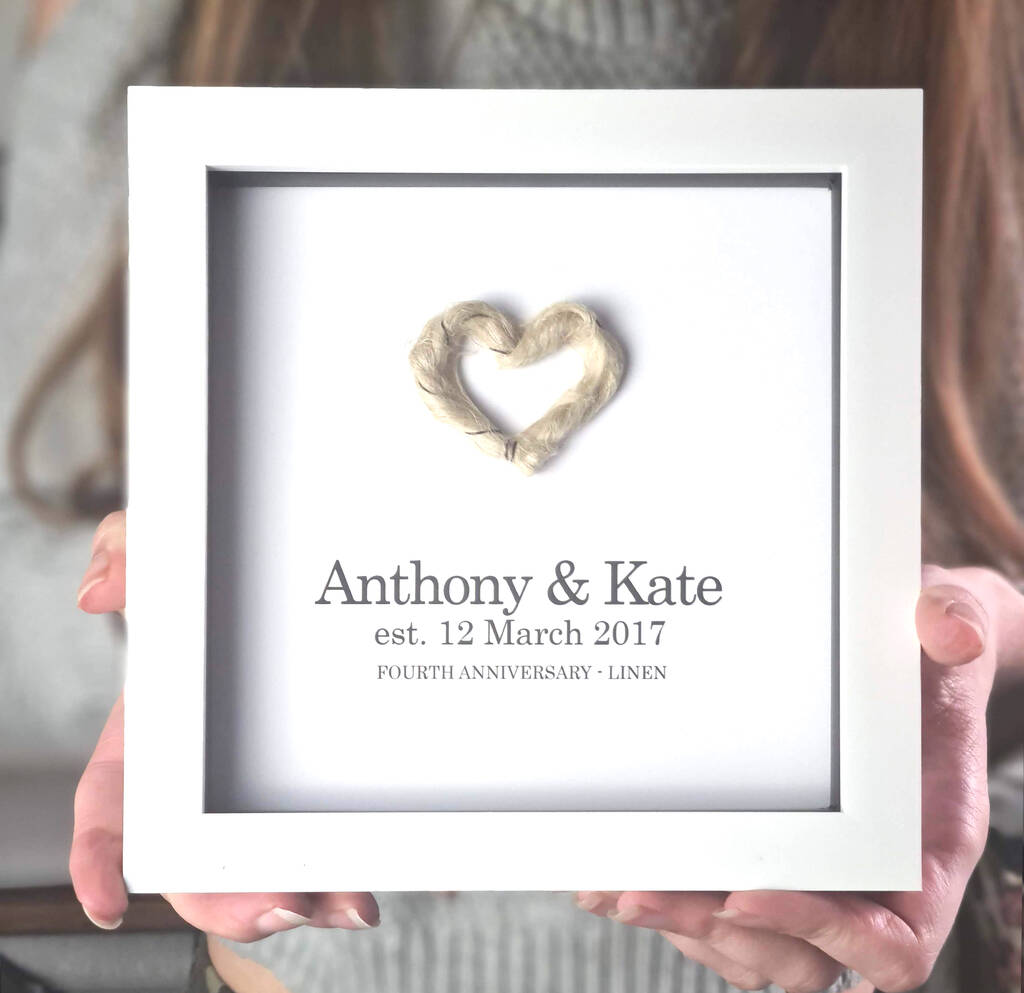 Custom Linen Map with Personalized Pins
Paper Anniversary Love on Etsy offers this most gorgeous Custom Linen Map with Personalized Pins. Whether you need a world map, a map of the US, or a single state – all options are available. The pins have wording such as "first home", "first date", "honeymoon" etc., and you pin them wherever that important event occurred. It's super thoughtful and is personalized with your names and "adventuring together since ____".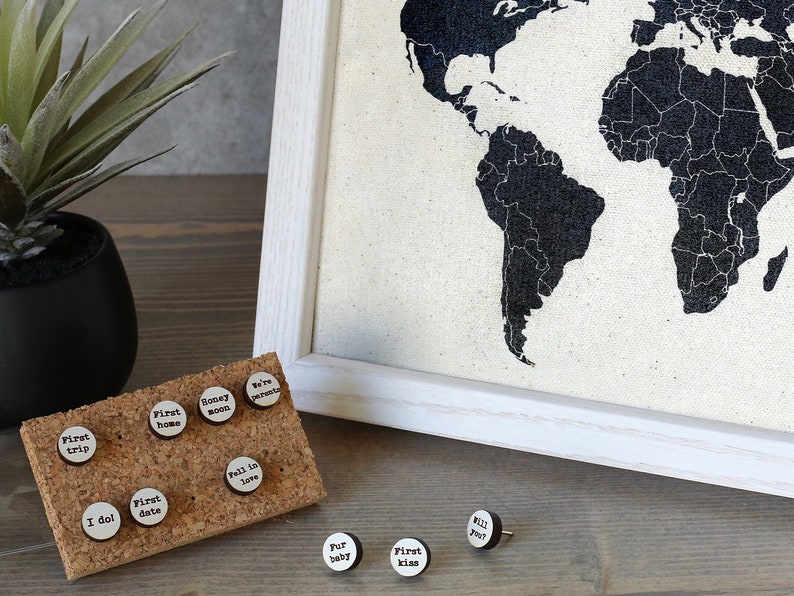 This product comes in two sizes: small (10″ x 12″) and large (12″ x 18). The small cost £110 and the large cost around £147. This is such a thoughtful gift and something you can do together as a couple to mark your four-year anniversary.
Fresh Linen – Cotswolds Candle
If you're looking for a simpler gift that you'll be able to make good use of, why not something like a candle? One of the most common candle scents is fresh linen, so it ties in perfectly with the anniversary. This fresh linen candle from Home County Candle Co. is currently on offer for £17 and offers free UK shipping. It's vegan-friendly and has a burn time of around 45-50 hours!
Silk Personalized Family Wire Tree
If you're looking for a silk gift, I would highly recommend this Anniversary Gift Silk Wedding Family Wire Tree from Digentus Craft, which is a store from Etsy. It's a completely handmade gift and you can add up to 7 names to the tree. Prices start from £136, and if you're a family of 7, there's currently a sale, which makes the 7 name tree, the same price as the 2 name tree!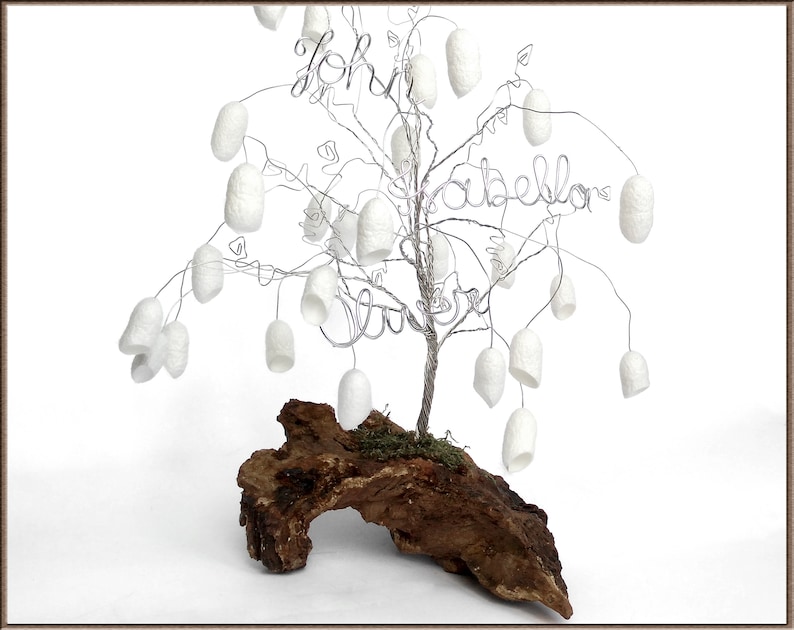 The wire branches are flexible and can be molded into different positions, depending on where you'd like each name to be. While this is a pricey gift, it's incredibly thoughtful and something that you and your entire family will be able to treasure forever.
Conclusion
I hope this article has given you some linen silk anniversary gift ideas. Some other alternatives you may like to try are a lovely linen or silk scarf, this would be perfect for a man or woman. Or maybe a pillowcase or two – they can even be personalized. Once you start searching, there's a huge selection of linen and silk gifts, that can be romantic, and not boring at all!
Have you celebrated your four-year wedding anniversary? Did you follow the traditional gifts for one another? Me and my husband have been married for 6 years this year and I have to say – we very rarely buy each other gifts, let alone specific ones! Please let me know how you celebrate in the comments below, I would love to know. You may be helping out couples with their own anniversary gifts. Sharing is caring!
FAQs
What Do You Buy For Linen Anniversary?
It may seem as though linen is quite a restrictive idea to base your gift around - but it's not as tricky as it may first appear. You can buy anything from luxury bedding, to a new set of towels, to some napkins for the dining room table, a linen notebook, a linen pocket square or even a linen scented candle. No matter what their preferences, their is something for everyone.
Is Linen an Anniversary Gift?
Yes it is. And although it doesn't sound very romantic, the gift of linen actually symbolizes truth and purity. Both of which are very important in any marriage. Paired with silk, which symbolizes strength and elegance - they really are the perfect pair. 
What Year is the Linen Anniversary?
The year in which you gift linen to your significant other is the four year wedding anniversary. It's important to note that this is only relevant to the UK, as the 4th year anniversary gift for the US is fruit and flowers.
What is the Silk Wedding Anniversary?
It's common to have two traditional gifts for each wedding anniversary. And while the main traditional gift is linen for the 4 year anniversary, silk is also the traditional gift too. If you're looking to buy a traditional gift for your partner after 4 years of marriage - silk or linen is definitely the way to go.